Question 1
HYDRO FLASK® PARKS FOR ALL WELCOME PAGE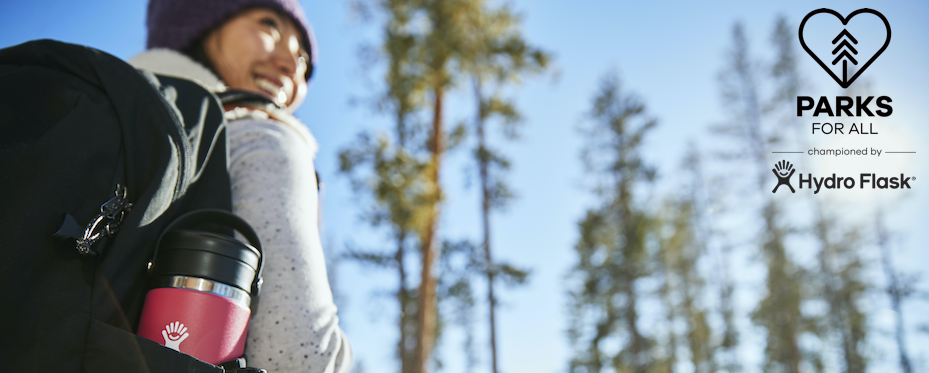 Grant Information
We are currently accepting grant applications from 501(c)(3) nonprofit or equivalent organizations in the United States, Canada, and Europe.

Program Geographies and Funding Amounts:
EUROPE (Funding range: $10,000 to $25,000 USD): United Kingdom, France, Germany, Norway, Austria, Belgium, Finland, Sweden, Poland, Czech Republic, Italy, Switzerland, Spain
U.S. NATIONAL FOCUS (Funding range: $30,000 to $50,000 USD): Project must cover 5 or more states to be considered national.[APPLICATION CLOSED ON SEPT. 9TH]
U.S. and CANADA REGIONAL FOCUS (Funding range: $10,000 to $15,000 USD): Regional projects based in any of the following states/provinces are eligible to apply for this grant round: [APPLICATION CLOSED ON SEPT. 9TH]

Canada: All geographies
U.S.: Alabama, Arkansas, Indiana, Kansas, Montana, New Jersey, New Mexico, North Dakota, West Virginia

Due to overwhelming demand, we accept regional proposals from ten states each year. Our regrets if your state is not on the list this year – we do appreciate all the work being done across the country – please check back with us next year.

Application Deadlines:

U.S. and Canada applicants: September 9, 2022 [APPLICATION CLOSED]
European applicants: September 23, 2022

Grant Timeline

September-October 2022 – Applications reviewed; grant recipients selected by a committee of Hydro Flask employees
November 2022 – Acceptance/declination notifications sent to all applicants
December 2022 – January 2023 – Grant payments completed
January – December 2023 – Nonprofit projects and activities
January 31, 2024 – Nonprofit projects completed; submit final report online

Click HERE to preview the application questions.

Please Note: Hydro Flask's product donation application will re-open on October 1, 2022. For more information, please check back this fall.

The following types of projects are NOT eligible to apply:

Organizations without 501(c)(3) status or without a qualified 501(c)(3) fiscal sponsor.
Programs that are not aligned with one of the Parks for All project categories.
Programs that don't actively connect people to outdoor spaces and/or recreation.
Projects focused on research, white papers, and conferences.
Endowment or capital fund campaigns.
Land acquisitions or conservation easements.
Wildlife (flora or fauna) conservation focused projects.
About Hydro Flask and Parks For All
Hydro Flask® is the leader in high-performance insulated products that help people enjoy the things they love to do in the places they love to be. From the number one-selling water bottle to good soft innovations like the Day Escape™ Soft Coolers to the Outdoor Kitchen dining collection, Hydro Flask's delightfully simple designs and go-anywhere durability always deliver the perfect temperature when you need it. Founded in 2009 in Bend, Oregon, Hydro Flask inspires active outdoor lives with two simple words: Let's Go! Its giving program, Parks for All, supports nonprofit organizations focused on building, maintaining, restoring, and investing in public green spaces so people everywhere can live healthier, happier, and more fulfilled lives. To learn more about Hydro Flask, Parks for All, and to see the full lineup of award-winning products, visit www.hydroflask.com.

Parks for All is the giving platform for Hydro Flask. Through Parks for All, Hydro Flask supports nonprofit organizations focused on building, maintaining, restoring and providing more equitable access to parks. For us, parks represent a place we can all go to recreate, relax or be inspired. From urban park excursions with our family to national park adventures in the backcountry, parks of all sizes and types help make us healthier, happier and more fulfilled. Parks For All is our way of sharing the love we have for green spaces, and ensuring these special places get the attention and protection they deserve. As of January 2022, Parks for All has supported 151 non-profits, given more than $2.5 million and donated more than 68,000 bottles. For more information about Parks for All, please visit https://www.hydroflask.com/parks-for-all.


Detailed Criteria
Before you begin the application, make sure your project and organization meet the following criteria:
Organizations seeking a Parks for All grant must be dedicated to one of the following four areas:
NEW PARKS CATEGORY Projects large and small in scale are vital for increasing the outdoor spaces available for everyone. From the creation of small urban parks, to the expansion of large trail systems, we seek to fund new trails for walkers and runners, bikers and hikers and swimmers and paddlers too. New parks applications should involve the completion of trail miles, park infrastructure, or other similar outcomes. If your project contributes to the creation of new parks or trails, from planning to construction, with specific outcomes or milestones in 2023, we encourage you to apply under this category.
PARK MAINTENANCE AND RESTORATION CATEGORY There is tremendous work needed to care for, restore, and maintain our outdoor spaces and our ability to continue to enjoy them. Ideal programs think creatively about engaging communities in stewardship work and creating connections between people and the land. If your program focuses on caring for and improving outdoor spaces to improve recreation experiences and involves over 1,000 person-hours in the course of this work, please complete the application under this category.
PARK ACCESS / EDUCATION CATEGORY Supporting more equitable access and the education (and confidence) for all to enjoy our parks is a core tenant of the Parks for All program. Specifically, we seek to support projects that break through the barriers faced by Black, Indigenous, People of Color, Latinx, Asian, womxn, LGBTQIA2S+, Disabled, and other historically marginalized communities. We want to work with nonprofits that are helping change the narrative of time outside and are addressing issues of representation and access. Ideal programs build inclusivity through innovative programming, and/or developing hundreds of new outdoor participants through experiential immersion. If your program seeks to develop new outdoor lovers, this category is for you.
SINGLE USE PLASTICS REDUCTION Hydro Flask launched its #RefillForGood initiative in July 2020, uniting the brand with consumers and global thought leaders to eliminate single-use container waste. #RefillForGood is our rally cry to make good changes for good reasons, educating people to protect and preserve green spaces through simple, achievable actions – such as choosing reusable alternatives to single-use bottles and containers. We welcome organizations who share this mission to apply with projects aimed at reducing single use plastics. Project-examples might include beach cleanups, park water bottle refill station installations, or single use plastic reduction awareness campaigns in parks.
Grant projects must be focused on supporting people's connection with the outdoors for recreation and health benefits.
Applicants must be aligned with Hydro Flask's funding priorities of inclusivity, active lifestyles and enhanced health.
Significant weight will also be given to requests that illustrate relevancy, innovation, impact, and feasibility.
Eligible organizations must have offices/staff and programming in the region in which they are applying for the grant funding and projects must take place within the country where the nonprofit organization is located. For example, if you organization is located in Canada, the activities for this project must take place in Canada.
Projects should take place from January – December 2023.
Notes and Definitions:
Parks: Naturally beautiful or historically significant public land meant for public enjoyment and recreation. From urban parks to public beaches to iconic national parks, these are places that enable people to have happier, healthier and more fulfilled lives.
Qualified Applicants: Nonprofit 501(c)(3) or equivalent organizations that work to build, restore and maintain public lands, parks and recreational waterways.
Click HERE to preview the application questions.
Selection and Process
Criteria for this grant program have been established by Hydro Flask and National Park Trust. Grant recipients will be selected at the sole discretion of Hydro Flask. For those applicants selected to receive grants, amounts granted will be determined at the sole discretion of Hydro Flask and may be equal to or less than the amount sought during the application process.